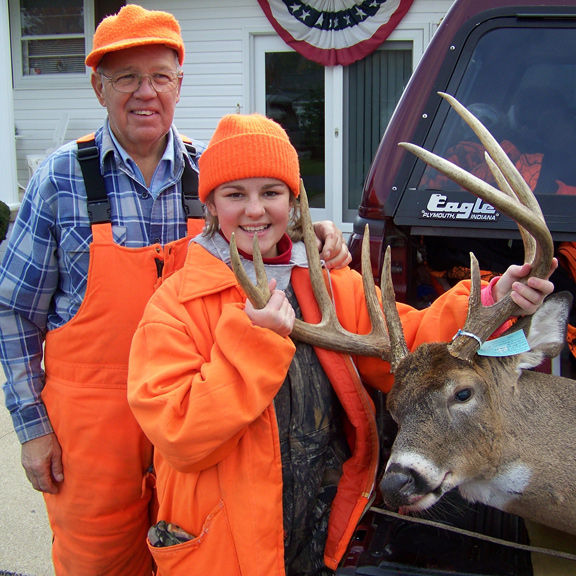 Increased deer populations can seriously affect native plant communities, and for this reason, the Ohio Department of Natural Resources will coordinate special deer hunts at three state nature preserves to help preserve the rare and protected plants that grow on these properties. Goll Woods in Fulton County, Lawrence Woods in Hardin County and Lake Katharine in Jackson County, will offer opportunities for hunters to be granted access to hunt.
Impacts of deer to high quality habitats at several state nature preserves continue to be observed. Not only are we losing our native plants from over-browsing, but evidence now suggests that increased browsing by deer may actually promote the spread of garlic mustard, a non-native invasive plant that also displaces our native species.
SEE ALSO: The Best Tips, Secrets and Strategies for Hunting the Rut
Application for the hunts this year will be handled locally by individual preserve managers. Hunters must attend individual meetings if they are interested in particular hunts. At that time, hunters can enter the drawing by purchasing a single ticket at a price of $5.
Other requirements include:
Hunters must possess a valid 2015-16 hunting license in order to purchase tickets.
Names will be randomly drawn, and those selected will be assigned a specific time to hunt. An orientation will be conducted immediately following the drawing.
Hunters will be permitted to hunt with a partner; however, the partner is not required to attend the drawing or orientation.
Hunters interested in both the Lake Katharine gun and archery hunts will have to purchase separate lottery tickets.
These hunts are "doe first" hunts, meaning a buck can be taken only after an antlerless deer is harvested. The harvest of does helps ensure the deer population is reduced. Other special regulations will be addressed at the orientation meetings following the drawings.
Lake Katharine State Nature Preserve will again provide both archery and gun hunting opportunities. The Lake Katharine archery hunt will offer hunters two week blocks of time. For the Lake Katharine gun hunt, hunters will be drawn for one of the two two-day hunts: either Nov. 30-Dec. 1 or Dec. 3-4, all during the regular statewide gun season.
Hunts at Goll Woods and Lawrence Woods will be archery-only hunts. Successful lottery winners of these hunts will be offered two week blocks of time to hunt.
Hunters may apply for hunts at multiple sites, but they must attend the meeting for each hunt in order to enter the drawing. Do not mail entry forms.
Hunt locations and meeting dates are as follows:
Lawrence Woods State Nature Preserve (Hardin County) – The archery hunt drawing will be held at the preserve parking area, located at 13278 County Road 190, Kenton, 43226 on Sunday, Sept. 6, at 1 p.m. Contact Ryan Schroeder at 419-445-1775 orryan.schroeder@dnr.state.oh.us to learn more about this opportunity.
Goll Woods State Nature Preserve (Fulton County) – The archery hunt drawing will be held at the preserve office, located at 26093 County Road F., Archbold, 43502 on Saturday, Sept. 12, at 9 a.m. Contact Ryan Schroeder at 419-445-1775 orryan.schroeder@dnr.state.oh.us to learn more about this opportunity.
Lake Katharine State Nature Preserve (Jackson County) – The drawings will be held at the preserve office located at 1703 Katharine Road, Jackson, 45640 on Saturday, Sept. 12, at 10 a.m. Contact Jason Garey at 740-286-2487 orjason.garey@dnr.state.oh.us to learn more about this opportunity.
+++++
A Must-Have Treestand Safety Resource Kit
Are you familiar with the safety precautions that need to be put in place in order to ensure proper tree stand placement and usage?
If the answer is "no," or you feel like you need to brush up on your tree stand safety skills, then the Tree Stand Safety Resource Kit is for you. Containing three prime resources regarding tree stand safety, this collection will ensure you're well on your way to avoiding as much danger as possible while installing, climbing or descending from, or using a tree stand.
Begin with Treestand Safety and Placement, and learn the proper method for hanging a stand. You'll also get placement advice for the best hunting. Learn more about how tree stand safety has evolved over the years, as well as how tree stand accidents have changed over time withComprehensive Guide to Treestand Safety.With the 30 Years of Deer and Deer Hunting Collection CD, you actually get six prime tree stand safety articles exploring the results of two tree stand safety surveys.
The post Special Deer Hunts Offered to Assist with Preserve Management appeared first on Deer & Deer Hunting | Whitetail Deer Hunting Tips.
Source: http://feedproxy.google.com/~r/DeerDeerHunting/~3/UDPbJBDAfx0/special-deer-hunts-offered-to-assist-with-preserve-management